Information and photos provided to us by Tim Becker.
Here are some photos so you can see how it goes together. It's a simple battery discharger you can put together for about $20.00!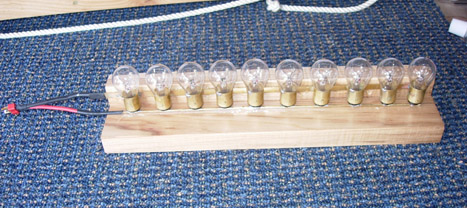 Supply list: (some of the items you likely already have!)
Ten 1157 automobile blinker/brake light bulbs,12" of flat brass bar for the common side of the bulbs, 12" of brass or copper wire for the load side of the bulbs, a wooden base and a deans connector (male), soldering iron, solder, some shrink wrap for the wiring and epoxy to hold it down to the base.
Note: In the photo just below, you'll notice that the wood at the back of the base is low enough so that the bulb glass is above it. This keeps the wood from burning from the heat of the glass. Use a hard wood that's less flammable (The wood in the photo is hickory). I suppose you could even use other material that is heat resistant.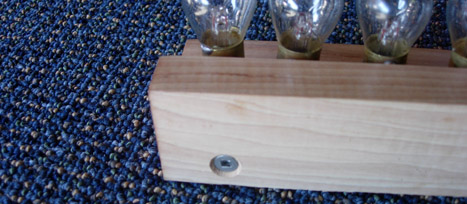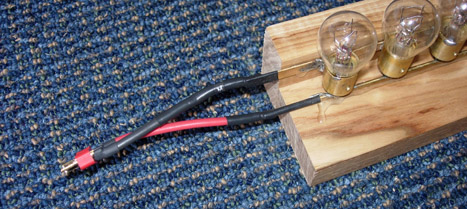 You can put a blinker switch in the center of the ten bulbs to slow the discharge, but it also works well without the blinker. You can also use fewer bulbs if you want to discharge at a slower rate.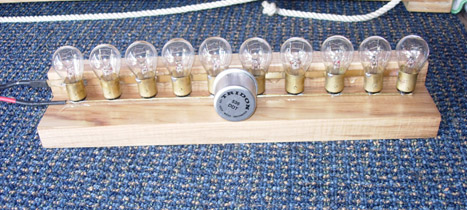 Use Extreme Caution! Remember to be careful as these bulbs can get pretty hot during discharges! Always take proper precautions to avoid creating a burn hazard! NEVER LEAVE THE DISCHARGER UNATTENDED WHILE IN USE!